---
Access to the database is restricted. Only a small portion of patient CT-scans are available on demand. To request access, one should registrer on the data platform and wait the approval from the project team. To registrer click here, please fill out the name of the institute.
---
As a large part of the database is not available to the public, participants in this project must agree to develop their applications only on the public part of the database and send the model to the management team for deployment on the secure part of the database. Participants must also agree to use the database only within the framework of this project Our team also undertakes not to use the shared models for any application other than this one.
---
The COVID-CTPRED clinical trial database contains pseudonymized data (images, clinical and biological metadata)("DATABASE"). The authorization to access and exploit the results extracted and/or calculated from the DATABASE is conditional to the implicit agreement with the following points:

1) Authorized users are not allowed to redistribute in any form the data from the COVID-CTPRED database.
2) Citation rules when publishing any results obtained from the latter:
In Materials and Methods section: reference to the database COVID-CTPRED (https://covid.creatis.insa-lyon.fr//), ClinicalTrials.gov Identifier NCT04377685, and ethical committee approval IRBN652020/CHUSTE.
Co-authorship(s) affiliation to the study sponsor (Centre Hospitalo-Universitaire de SaintEtienne, Saint-Etienne, France) for the COVID-CTPRED principal investigator (PI) (Pr P.Croisille) and/or additional co-author(s) request depending on the focus of the work.
in the acknowledgments section, inclusion of: "

This work was awarded and received funding from the University of Lyon / IDEXLYON program, as well as the CARE program of the Ministry of Higher Education, Research, and Innovation (MESRI). This project was also funded by the CHU Saint-Etienne and the National Center for Scientific Research CNRS."

in the acknowledgments section, inclusion of: "

Study data were collected and managed using REDCap electronic data capture tools hosted at the CHU Saint-Etienne. [REFERENCES NUMBER OF TWO THE FOLLOWING ARTICLES] REDCap (Research Electronic Data Capture) is a secure, web-based software platform designed to support data capture for research studies, providing 1) an intuitive interface for validated data capture; 2) audit trails for tracking data manipulation and export procedures; 3) automated export procedures for seamless data downloads to common statistical packages; and 4) procedures for data integration and interoperability with external sources."

in the reference section, inclusion of these two references: "
[1] PA Harris, R Taylor, R Thielke, J Payne, N Gonzalez, JG. Conde, Research electronic data capture (REDCap) – A metadata-driven methodology and workflow process for providing translational research informatics support, J Biomed Inform. 2009 Apr;42(2):377-81.
[2] PA Harris, R Taylor, BL Minor, V Elliott, M Fernandez, L O'Neal, L McLeod, G Delacqua, F Delacqua, J Kirby, SN Duda, REDCap Consortium, The REDCap consortium: Building an international community of software partners, J Biomed Inform. 2019 May 9 [doi: 10.1016/j.jbi.2019.103208]"


Any inquiries should be directed to the sponsor representative (Pr P.Croisille, Chairman of Radiology and Nuclear Medicine, CHU Saint-Etienne mail)
Post your model
---
When you are registered in the warehouse platform, you have access to a package tool that will allow you to develop your solution. This package provides a Makefile with different commands necessary to build and share your solution with us.
We are using Docker in order to create isolated environment for each solution. You will have to download Docker locally in order to post what we called a image containing your solution. We won't have access to your source code. We implemented a Dockerhub that will host your submissions, you can, at any moment, ask us to remove your submissions.
The following graph gives the different steps required during the development of your solution.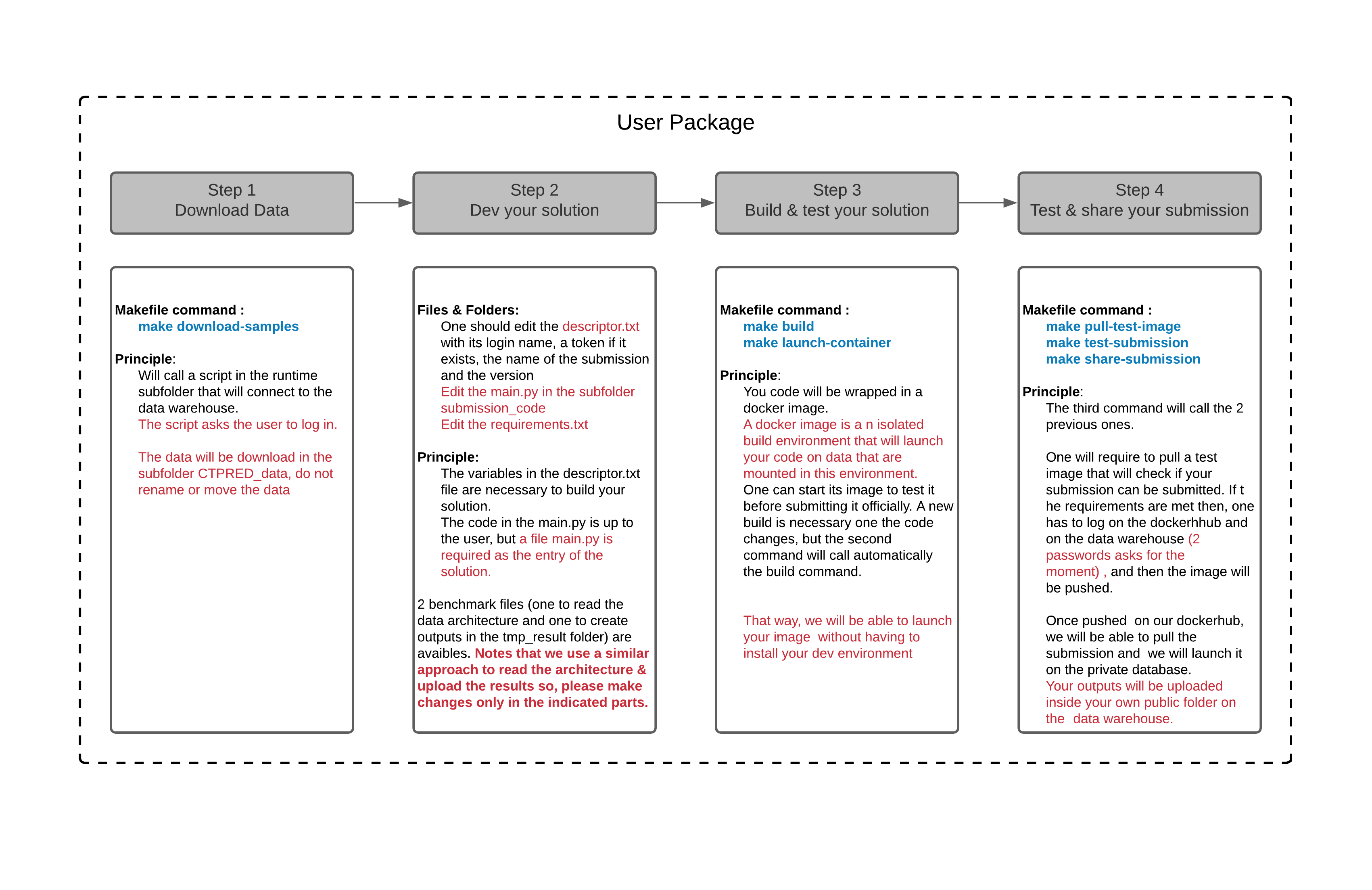 Once your solution is submitted, our team will run it on our own environment and upload the results on the warehouse platform under your private folder. We will be testing automatically and/or manually verify the content of your results to avoid metadata leakage.
For more information, please contact the project
team
.